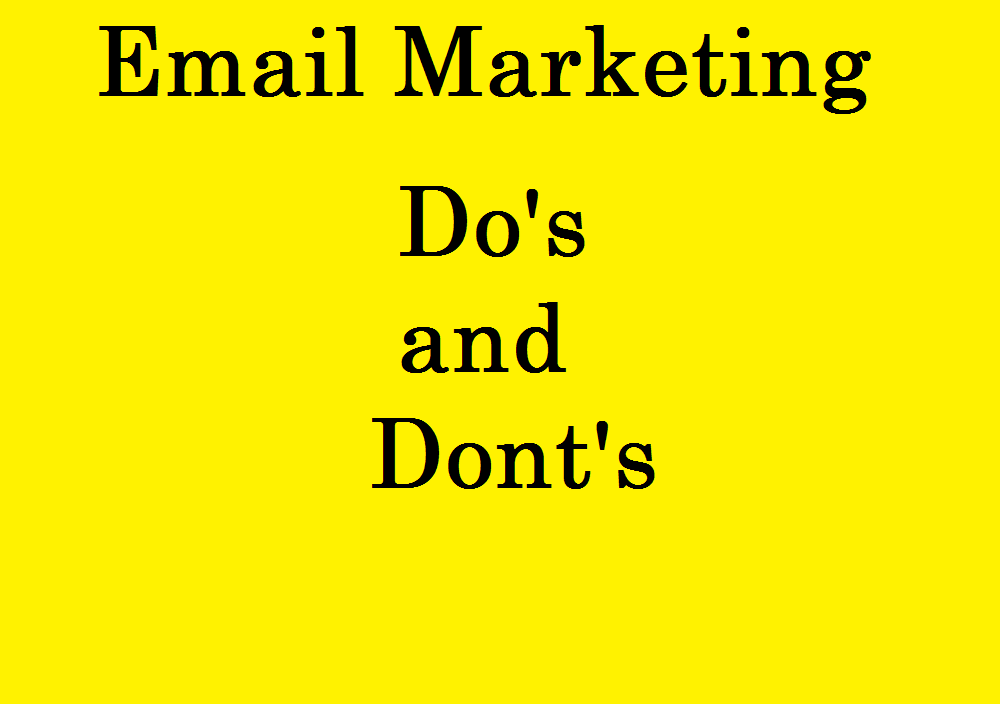 Email Marketing Do and Dont
Amrit Pal Singh 15-10-2017
online promotion
online marketing
,
email marketing
Email marketing is a very powerful tool to interact with customers, share information and get business.
Email marketing can be used for:
Affiliate Marketing

For sharing Content

Newsletters

Send Promotion offers

Branding

Surveys
But we can not do send email to everyone. Just thinking that emails are free and we freely send to many and not tacking them can be very harmfull. If you send emails to everybody. If for most people it is irrelevant and they mark it as spam then slowly your IP and domain reputation will move down and your emails will only go in spam.
How to Avoid Spamming in Email Marketing?
You can read few steps to take care of your domain and IP.
Use unsubscribe option in Email: People who do not want to receive emails from you will not mark you spam. They will only unsubscribe you. Doing unsubscribe is fast on user point of view. An email will stop instantly but mark as spam will not stop email. So for a user, it is better to click on unsubscribe. For you, it will be beneficial that user will not mark you spam and the person really don't want your email so he cannot give your business.

Interactive Email:

Don't just send random things, try to interact with your customers. Example: Tell me those problem they really face and the solutions.
Don't Sell Directly: Share information, Solve problems, Give Tips and engage with people and slowly sell your product.

Email Timing:

Schedule you email by taking care of time. Send at that time when you think your audience will read it. Normally what happens is people see name or subject, bulk select and delete. Try to send when you have already deleted today's email and are

available online. Like Lunch breaks.

Track Users: Use UTM Parameters or any other tracking methods to track your users. Don't send all emails at once. Categories them on a different basis and use UTM Parameters and use a different name in every link to track your user's activity.
Things to Strictly Avoid when running an email campaign
Don't buy an email list: This is a very important point that don't buy a random email list. Use different methods to get data which is relevant to your business. Purchasing thousands of irrelevant emails will only spoil your campaign because most users are irrelevant.

Ask your users:

Ask your email list user that they really want to receive emails or not. Like after sending 2 - 3 emails send them a form to ask whether they are interested in receving emails from you or not.
Related Topics